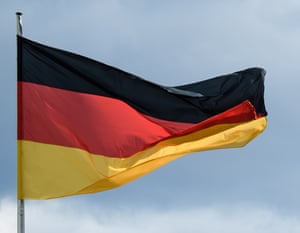 Good morning, and welcome to our rolling coverage of the world economy, the financial markets, the eurozone and business.
The slowdown fears that gripped markets last week are intensifying this morning, as the slump across Germany's manufacturing base deepens.
German factory orders slumped by 6.7% year-on-year in August, new figures from Destatis reveal, extending the decline which began almost two years ago.
On a monthly basis, factory orders were down 0.6% compared with July – weaker than that 0.3% which economists expected. That follows a 2.1% slump in July, compared with June.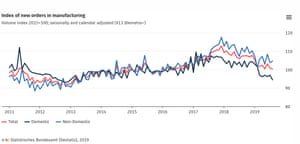 The slump was driven by a decline in orders from within Germany, which highlights the risk that Europe's largest economy is in recession. There was a small pick-up in orders from abroad.
Destatis explains:



Domestic orders decreased by 2.6% and foreign orders increased by 0.9% in August 2019 on the previous month. New orders from the euro area were up 1.5%, new orders from other countries rose 0.4% compared to July 2019.
German manufacturers also reported a 1.6% monthly decline in orders for 'capital goods', or heavy-duty machinery and equipment. Consumer goods orders fell 0.9%, while intermediate goods jumped by 1.1% compared with July.
Germany's factories have suffered badly from the US-China trade war, the slowdown in the eurozone, and economic problems at home.
Last week, a flurry of PMI reports showed that global manufacturing is shrinking, so Germany's falling factory orders could worry the markets today.
Also coming up today
The latest Sentix survey of eurozone investors morale is expected to show another deterioration.
Traders will also be watching the pound, as the Brexit deadline looms, and the Middle East, after president Trump announced US troops will withdraw from northern Syria, allowing Turkey to launch military action in the region.
The agenda
9.30am BST: Eurozone Sentix investor confidence for October – expected to drop to -13 from -11.