A vow by China to reach a trade settlement with the United States has helped settle financial markets after steep falls in US stocks.
Markets in Europe were lower on Wednesday but did not mirror the drastic scale of sell-off that had been seen on Wall Street on Tuesday.
Values in New York had surged on Monday on hopes of a thaw between Washington and Beijing before tumbling on Tuesday amid doubts the suspension of tariff hikes agreed during talks between Donald Trump and his Chinese counterpart Xi Jinping at the weekend would lead to a concrete deal to end their trade war.
Sharp declines in US treasury yields added to the downbeat mood as investors fretted about the state of the global economy and even the possibility of a US recession.
The Dow Jones Industrial Average shed 3.1% while the tech-dominated Nasdaq was down almost 4% by the close.
:: Trump trade truce met with scepticism – and here's why
Asia failed to follow this lead to the same extent after China gave its first official comments on the temporary trade truce which allowed for tariff hikes to be postponed for 90 days – until 1 April.
Beijing's commerce ministry said negotiators would "actively push forward negotiations within 90 days in accordance with a clear timetable and roadmap".
It described the discussions between Mr Trump and Mr Xi as "successful", adding it was "confident" that their agreement will be implemented "the sooner the better".
It did not give further details but it crucially did not contradict the US president's remarks that China would buy more goods from the United States to help close their trade gap and make structural changes to intellectual property protection.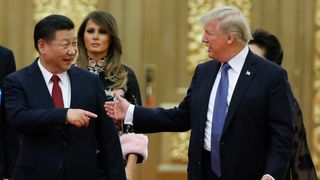 However, Mr Trump risked more confusion over the state of relations when he took to Twitter to say: "We are either going to have a REAL DEAL with China, or no deal at all – at which point we will be charging major Tariffs against Chinese product being shipped into the United States.
"Ultimately, I believe, we will be making a deal – either now or into the future…."
Wednesday's trading session saw Hong Kong's Hang Seng lose 1.5% but the Shanghai Composite shed only 0.2% while Japan's Nikkei was 0.5% down.
In London, the FTSE 100 opened 1.2% lower and later pared back some of the losses, partly thanks to a rally for housing stocks.
Blue-chip shares with large overseas currency earnings have also been boosted by the fall in the pound, which briefly fell to its lowest level since June 2017 on Tuesday after the government lost a series of Brexit-related votes in the Commons – though it fought back partially on Wednesday.
Stock markets in New York will not get a chance to recover until Thursday because they will be shut in a mark of respect for former president George HW Bush, who died aged 94 last Friday.
Randy Frederick, vice-president of trading and derivatives at Charles Schwab, said of the market mood: "This trade issue is the big overhang, the biggest ceiling, if you will, to keeping the markets from moving higher."